---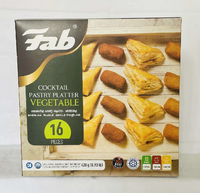 Fab Cocktail Pastry Platter - Vegetable - 16 in a pack
STOP, read this first if you want to get this product shipped.
IMPORTANT: Frozen and perishable products are available for pickup and local deliveries only. But we still can ship those to you through UPS 1-2 business day service in an Insulated Form Shipping Kit. In order to avoid UPS weekend layover, frozen products are shipped from Monday through Wednesday except holidays only. We strongly recommend our customers to purchase our Insulated Form Shipping Kit which is listed on our site for just $13. The Kit includes a heavy gauge corrugated box, 1" Styrofoam inner box, thermal gel packs and dry ice. One kit is good enough for 5-6 frozen products.

NOTE: We still can ship some frozen products, except fish and stuffed or filled food without the cooler kit, but with thermal gel packs if shipping duration is just 1-2 business days. But freshness of product cannot be 100% guaranteed. We do not take any responsibility for spoilage if you decide to get shipped frozen products without a shipping kit at your own risk. Please contact us @ 917-517-1023 if you have any questions.

Link for Frozen Products Shipping Kit:
https://lakfoods.myshopify.com/collections/frozen-products/products/frozen-products-shipping-kit
Please refer below UPS Ground Service transit time map for shipping duration to your location from our warehouse in NY.
Subject to the Tariff/Terms and Conditions of Service, UPS guarantees on-schedule delivery of packages, shipped via UPS's services, that are listed as guaranteed, or will refund your transportation charges. Guaranteed Service is not available in all areas and does not apply to shipments containing a package with an Additional Handling or Large Package surcharge. Scheduled business days and delivery schedules are revised occasionally due to changes in distribution and volume, especially during holiday periods. Service to some remote areas also may require additional delivery days. For current delivery schedules, service availability and information, and a description of the UPS service Guarantee, see the UPS Rate and Service Guide. The most up-to-date transit time details will be available at ups.com/ctc at the time of shipping. Certain commodities and high value shipments may require additional transit time for customs clearance.