---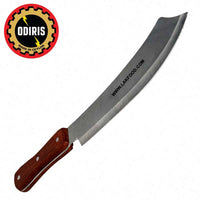 Odiris Fish/Meat Knife - K5
Odiris Fish Knife Best Quality Stainless Steel Ceylon Since 1952 Wood Handle
Product details of Fish Knife
– K5
Completely forged from high-quality carbon steel.

Flat wood handle knife

Stainless Steel blade 

384mmL x 58 mm Width x 2 mm Thickness

All for daily slicing and chopping.

High-performance, long-lasting sharpness.

Comfortable and perfectly balanced.

Secure dishwasher.
Their fine-edged blades make it easy to cut accurately and easily, while their balanced ergonomic handles make user-friendly. Ideal for a wide variety of daily cutting activities – from peeling potatoes to cutting steak fat. The knives feature fine-edged blades, allowing extremely quick, precise cutting. The blades are made of stainless carbon steel that retains sharp edges longer than regular stainless steel knives and is easier to keep sharp. They won't tarnish because they're stainless. These knives have chunky steel handles, with ergonomic curves built to fit comfortably in the side. They're a total joy to use and also well balanced with their flared bolsters. This ensures smooth, simple chopping.